Have you ever wondered when the first restaurants came about? Well, of course, people have been selling food in a variety of ways for ages: from carts on the street to roadside inns and taverns. But, according to most experts, the original "sit down at a table, look at a menu, and order your meal" type of establishments paralleled the growth of cities, notably in France. Statistics show that before the start of the French Revolution in 1789 there were fewer than 50 restaurants in Paris; twenty or so years later the number had grown to over 3,000. These early locations were places of distinction intended for the elite. By the mid-1800s, however, a completely new genre of restaurant appeared: le bouillon.
As its name suggests, a bouillon's primary offering was a broth, served with meat and vermicelli noodles. The idea originated, so it's said, with Pierre Louis Duval, a butcher at
Les Halles
—the fresh food market formerly found in the French capital's first arrondissement. Duval decided to take leftover meat scraps and make hot, one-dish meals to sell to fellow market workers as well as to the labor force of the ongoing urban renewal program. The menu expanded and the quick, quality food at affordable prices caught on big time— with the working class and wealthy members of the bourgeoisie. Soon over 250 bouillons dotted the downtown landscape. Some, extravagantly decorated in the popular Art Nouveau style of the late nineteenth century, provided low-cost meals in a high-class setting.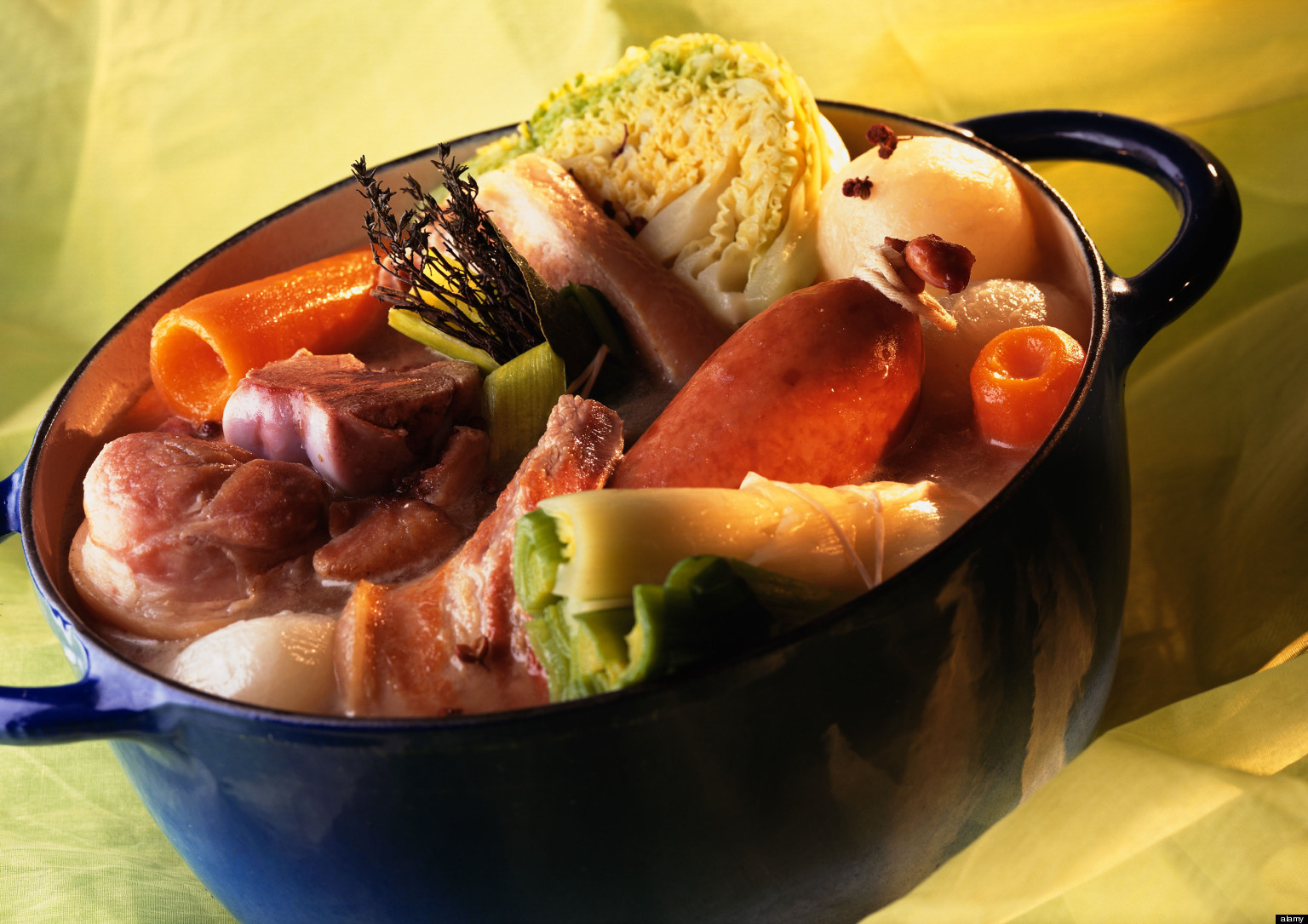 The good news is that some of these lavish restaurants have been restored to their initial glory. Not only that. Due to what the contemporary restaurant guide
Le Fooding
calls "le rétrofoodisme," bouillons are once again serving classic French cuisine at very low prices. And since many modern French people don't have the time to prepare their old favorite comfort foods such as
soupe à l'oignon
,
pot-au-feu
, and the like, they are flocking to the new bouillons. Before Cheapo Snobs rush to follow suit, though, let it be known that some Snobs have reported that the ambiance is often much more appetizing than the actual meal!
Le Chartier
, in operation since 1896 at 7, rue du Faubourg Montmartre (9
th
), can really give you a taste of old Paris. In keeping with tradition, the current prices from starters to desserts are unbeatable; to give you an idea, main dishes like
confit de canard
or
blanquette de veau
go from 8,50 to 13,50 euros…or about $9.50 to $15. But some disappointed diners say that both the service and the food are mediocre at best. Reviews are better for a revived branch of the
Chartier
across from the Montparnasse train station (6
th
). The setting is even more spectacular, too, with touches of brass and wood, tiled walls, and etched globe lights (pictured).
Two other old-timers are the
Julien
in the 10
th
and the
Racine
in the 6
th
. Both opened for business in 1906, have been meticulously restored, and are designated historical landmarks. The
Julien
—with its mahogany bar, stained glass, high ceilings, mirrors, and murals—was once the preferred spot of singer Édith Piaf. The current version tries to live up to the original motto: "Ici tout est beau, bon et pas cher" ("Everything here is beautiful, good, and not expensive"). Unfortunately not everyone agrees with the "good" part for the cuisine. One Trip Advisor reviewer, for instance, described his meal as "truck stop food"! But at 20 euros for 3 courses and a glass of wine, I might give it a whirl. The striking
Racine
(see photo) on the Left Bank is a bouillon in name only. Snobs might be tempted by the surroundings, but neither they nor Cheapos would enjoy spending 50 euros for 3 unexceptional courses.
A newcomer, established November 2017, is located in Montmartre across from the Pigalle métro stop…and is, in fact, called
Bouillon Pigalle
(18
th
). The 300-seat modern style restaurant is open seven days a week from noon to midnight. And while lacking the Art Nouveau atmosphere, it gets rave reviews in the food department. Everything is made on the premises with products from
Rungis
, the current version of
Les Halles
market. Three-course meals for 17 euros have made this place extremely popular, attracting from 800 to 1000 customers daily. If you go, get there before or past rush hours as they don't take reservations. Plans are to open a second branch this year at
place de la République
.
So, if you're in the mood for home-style French cooking at a bargain basement price, check out these bouillons. There's sure to be something satisfying for the Cheapo and the Snob.
For more about the French capital, take a look at my recently published book—Pilgrimage to Paris: The Cheapo Snob's Guide to the City and the Americans Who Lived There.